Curious about nature and a thriving cultural life? Ödevata is an activity camping farm with access to a stunning environment and to the leading tourist sights of Småland, Sweden. Explore our region where adventure is never far. In the surrounding nature and culture, one can find rare treasures, such as where the woods meet the water.

Go fishing or paddling in one of the nearest lakes. Prepare for a long walk or just take a stroll along the
many marked trails. Take a biking route and pick mushrooms and berries.
Bath, swim, play and relax on the beach or enjoy a silent night in the sauna or hot tub by the lake.
Even winter offers magic days and give you the opportunity to try skating, skiing or ice fishing. There are plenty of activities here!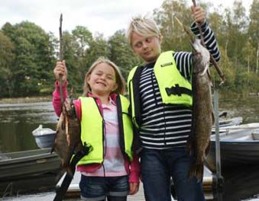 Find the thrill of anticipation or find inner peace through fishing. It is so much more than a mere hobby! No matter if you are a beginner or a pro: Ödevata Fish Camp
is open all around the year for the
fishing enthusiasts.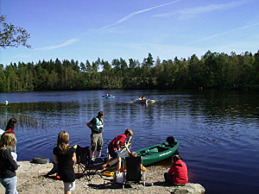 We also welcome larger groups - either on a short stop over or on a longer holiday. We have plenty of activities at Ödevata: Find inspiration in our group offers and deals, get out and enjoy the outdoors. Experience unforgettable days.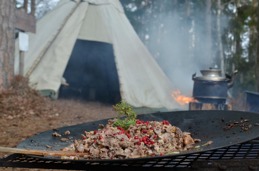 Outdoor cooking is a much appreciated convivial activity for all kind of groups. Perfect to team building, teamspirit and enjoy yourselves in a new environment. It's an informal activity, easy to carry out - and you learn a lot of new things along the way.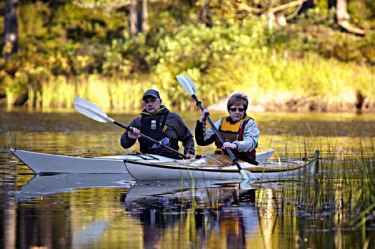 Ödevaten is a beautiful lake in an oblong shape, with lots of bays and small islands. You start your boat adventure in the northern part of Ödevaten and make your way to the other side at Buggehult. There is a beach and a BBQ spot waiting for you, so you can take a break before paddling back. Calm waters and the shore always in sight make you feel secure in the boat on the lake. The activity tour takes around 2,5 hours and covers a distance of 10 km.
Canoe 250:-/halfday, 300:-/day
Kayak 200: -/halfday, 250:-/day
Doublekayak 250:-/halfday, 300:-/day
incl. life vests and map
For all those who seek a greater challenge within watersports, we recommend the paddling tours that our colleagues at Lyckebyån offer.
Check their site for more information: kanotlyckebyan.se
Cycling trip between Ödevata and Målerås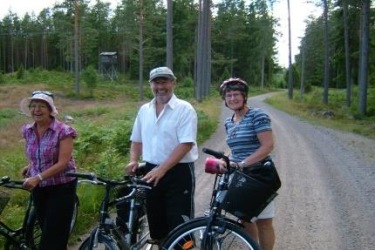 Long have we collaborated with Målerås Glass Village. Our collaboration have brought many benefits for our guests and each other. Our latest collaboration is developing cycling round trip between Ödevata and Målerås.
The 2 day cycling round trip will take you through many typical Swedish communities/villages and the view along the way is breath taking. You can start your adventure from either Ödevata or Målerås and you will end at the same place. You will be cycling for around 50 km per day, so you need to be well prepared. You will find detailed information below:
Route Review: "Hi, We promised to provide a feedback on how we experienced the cycle trip between Ödevata and Målerås. It was a good bike ride that usually went on small roads. Beautiful Småland landscape. Not too demanding, far enough. MVH Lennart & Bibbi"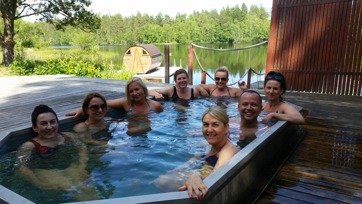 After a day full of action, how about a sauna night for relaxation and recovery.
End the day on a high note and enjoy our sauna for 1-15 persons. This is our most calm activity.
Small raft sauna 1-6 persons: 600:- (500:- for our
overnight guests:).

Large heated hot tub on a raft, 1-10 pers: 1600:-

Rent both sauna and hot tub plus our BBQ tent for max.
15 personer: 2500:-
When booking, we schedule a time for the sauna/ hot tub to be heated and prepared. All you have to do is enjoy and use the facilities as long as you wish.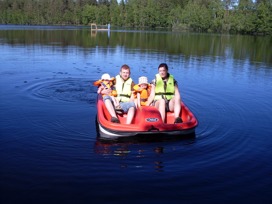 In Ödevata, you can rent boats for different lakes on site. Take a tour on silent waters with oars or electric engine, canoe, kayak or pedal boat. For your safety there are always life vests for rent.
More information...
If you want to stay ashore, why not take a biking tour. We rent out standard bikes that can take you anywhere:
300:-/day, 200:-/4 hours
During crayfish season we even offer cray fishing activity in some of our ponds.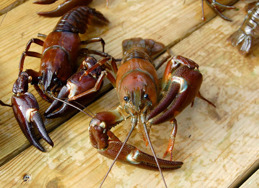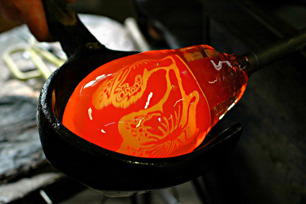 Ödevata is located in the heart of "Crystal Kingdom", that is why we love to suggest our guests to the nearest sights like glassworks, ateliers and museums:
Many of Smålands best sights are just a short drive away. Among them
Kalmar slott (Kalmar Castle), Karlskrona (City), Öland (Island)
and Astrid Lindgrens Värld (Pippi longstocking) are
the most visited.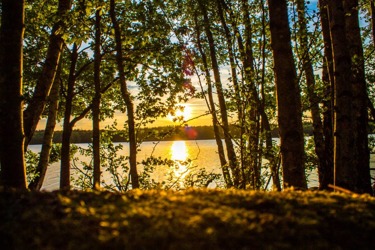 Plunge into nature and meet complete composure on foot. Ödevata offers many options for hikes through the forest and meadows. Most of the marked hiking trails go around or along our beautiful lakes. Specially marked jogging paths are also connected to our property.
Ödevatas hiking trail "Vildmarksled" 3 - 6 km
"Torsleden": a hiking trail 5 km away from Ödevata
"Torsjöleden" is 7 km long, or 18 km if you start at Ödevata
"Bielkeleden": 5,5 km long. Starting point is 10 min drive from Ödevata
"Örsjövandringsled": 5,5 km long. Starting point is 15 min drive fron Ödevata
Utvandrarleden is a 120 km long hiking trail that leads through 3 municipalities in Sweden. Our most challenging hiking activity.
All of the marked hiking trails are much appreciated and fitting for both short promenades and sportive walks.
Don't forget to take a basket with you to pick berries and mushrooms on the way. We have plenty of these in our region!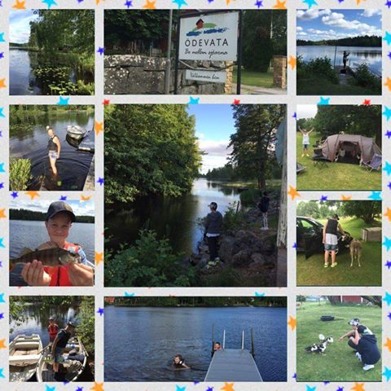 The best stay in Sweden again! Our favorite place because of the beautifull nature, the quiteness and our dear friends Malin and Magnus. Our new experience in the Tipi (a Sami tent) on a little private island was great and our surprise walk, that was included the arrangement, was also very nice!! We had also the best weather for a splendid holliday. An experience we never forget!

Guest review on our Facebook-page