Meet inspiration in Ödevata
Calm and inspiration: Nature has much to give to your conference
Ödevata Fish Camp is a place where people relax with nature and each other.
We offer a full conference package with conference facilities, accommodation, stunning nature experiences and a cordial service. The inspiring surroundings and the secluded area of Ödevata make all the difference for you and your group. The result are more intimate and private conferences, focused and undisturbed. Together with a variety of activities, you manage to strengthen the bond within your team, your company or your club.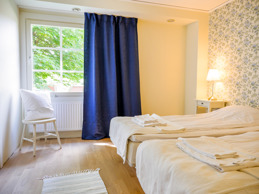 Welcome to Ödevata Country Hotel where we can host up to 30 overnight guests during your conference. As a larger group you benefit of spacious common areas, such as gathering hall and self-catering kitchen. Half of our rooms are equipped with their own bathroom. Rent the main hotel together with our cottage cabins - exclusively for your event.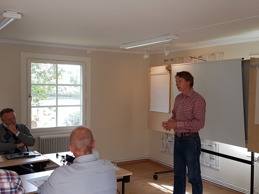 The charming hotel building of Ödevata offers facilities for up to 30 persons. Enjoy a stunning lakeview and a panorama balcony on the upper floor. Make use of conference equipments like projector and internet access. You even find smaller working areas on site as well as a conference room accessible for the disabled.
8-h Conference, from 320:-/pers
24-h Conference, from 990:-/pers
Kick-off evenings with fishing, BBQ, sauna and hot tub: 440:-/pers.
Conference hall up to 30 persons,
dining hall up to 70 persons
"Rent the whole Ödevata": Special offer for groups or companies
Combine your stay with activities like fishing, bathing, sauna
Prices excluding VAT
Updated: 31/10/2018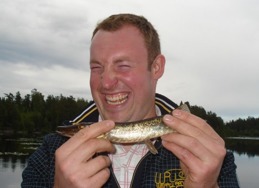 Experience this peculiar mix of thrill and relaxation that fishing has to offer! We invite you to try out fishing in our lakes and we rent out boats and all of the necessary equipment. You may add an exclusive fishing tour with a guide or paddle at leisure on silent lakes. Warm up in the raft sauna or in the comfortable hot tub afterwards. Then hike on well-marked trails into nature or say hello to the farm animals. Why not light a campfire and tell stories untill night falls...?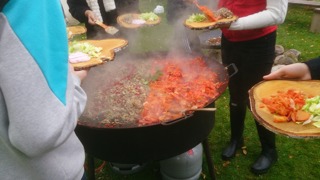 Welcome to the wilderness nature restaurant! To raise the teamspirit to new heights, try Outdoor cooking together with your hosts. Frying, baking, smoking and cooking is a joyful teamwork that spurs your appetite. Taste the regional delicacies and food as a 3 course dinner - safe from weather in the cozy Tipi-tent. Furthermore, we provide coffee-breaks, lunch and dinner during your conference. The breakfast in our B&B offers a fresh variety of food and marks a good start of the day.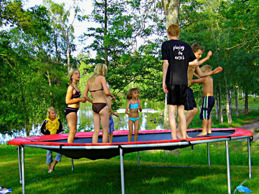 Ödevata is unique and offers enough space for groups of any kind: Kids and youth groups, families, companies or associations/organizations. Take pleasure in our piece of paradise that is Ödevata. Staying here is perfect for those who have a holiday agenda and just want to stay overnight. But we're glad to serve even those who wish to combine their stay with activities and look for an "all-inclusive-offer". Trips, transports and catering can be easily arranged at Ödevata.