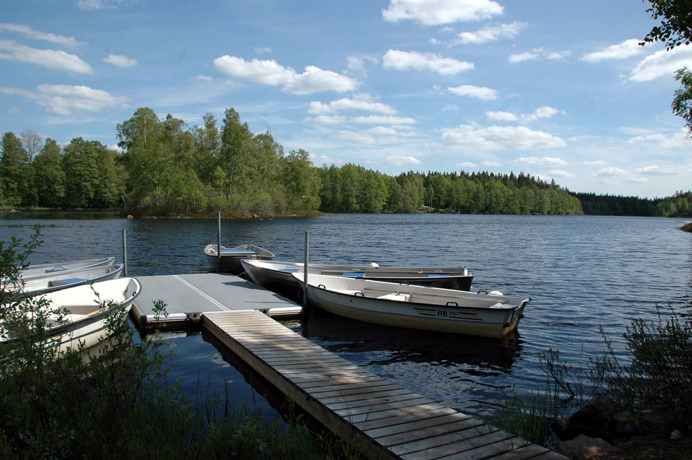 Fishing licenses for sale -
valid for several lakes
Boat 200 SEK/day
E-engine 150 SEK/day
Spare battery 50 SEK/day
Canoe 250 SEK/half day,
300 SEK/day
Kayak 200 SEK/half day, 250 SEK/day
Doublekayak 250 SEK/half day, 300 SEK/day
Fishing equipment 25 -100 SEK
Bicycle 300 SEK/day, 200 SEK/4 h
ÖdevataFiskeCamp: Service for improving your fishing-luck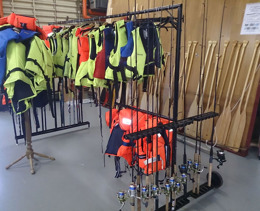 Rent a boat, stock up on your equipment or benefit from our special offers and packages. Ödevata Fiskecamp is a meeting point for anglers, and we bring you tips and service that improve your fishing-luck!

At our shop you'll find the reception where you can buy fishing licenses for several lakes in the region. Along with our rental boats comes a bucket with anchor, rope and ladle. We serve you with information and maps that point you towards a succesful fishing day. For your safety, take along a life-jacket from us!

In our shop you can complete or enhance your angling-equipment: Ödevata FiskeCamp sells different kinds of fishing and spinning rods, reels, lines, lures, hooks and much more. In summer, you get "fresh" worms for your fishing rod, and during crayfish season (august/september) we offer special crayfish-lure.

You just want to try out fishing, just for one day? In Ödevata Fiskecamp you can borrow rods and equipment for a charge. Furthermore, we offer canoes, kayaks and pedal boats for rent. If you want to stay on shore, we recommend to try one of the
many well-marked hiking-trails in the woods around the lake. Or rent a bike to get around a bit faster!

The shop also houses the reception for our lodging guests. During summer, it is opened daily and you can just step in or ring the doorbell. We love to welcome you even in winter, and we appreciate that you call or send an e-mail before your arrival.