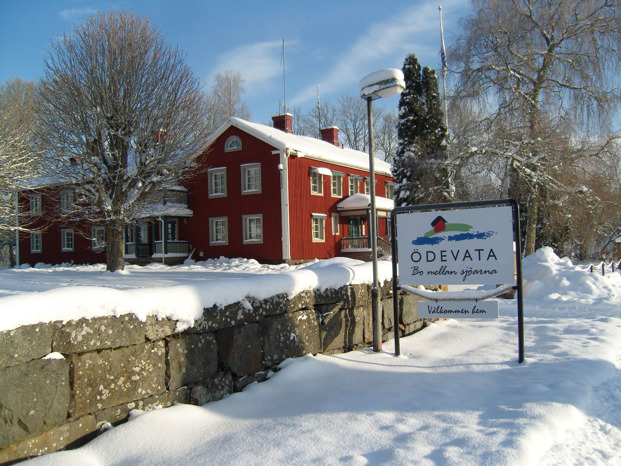 Established by Malin och Magnus Axelsson in 2006
Countryside Hotel with 14 rooms,
2 cottages. 45 beds in total
A smaller Campingground
Fishing and boats for rent in several lakes in the vicinity
Bath, sauna, paddling, hiking
Package-offers for active or relaxing holidays
Teambuilding: Conference Center including activities for companies, clubs, youth-groups etc.
About Ödevata: From Småland-farm to holiday paradise
Welcome to Ödevata, the little paradise in the midst of Småland's woodlands. The farm between lakes is located 10 km outside of Emmaboda and just a cardrive away from major sights: Kingdom of Crystal, isle Öland and Astrid Lindgrens World in Vimmerby. Are you on a round trip through wonderful Småland, we look forward to meeting you and make sure you enjoy your stay. Personally, and naturally, we look after your wishes.

We, Malin and Magnus Axelsson, took on the challenge in 2006, when Ödevata - a former penal institution (!) - stood empty and abandoned since nine years back. Over time Ödevata evolved and blossomed into a fishing- and activity-camp in stunning nature with accommodations of high quality.
With great commitment we strive to offer you new sights and experiences each time you visit us!

We hope you have a good time and want to stay a while longer: Ödevata is a fully developed holiday-facility, but at the same time our very hearth and home. It is here we keep our animals, cultivate plants, harvest, build and initiate exciting new projects for a better environment. We and our staff are happy to share our ideas and show you our day-to-day-work. Just join us and see for yourself!

Our passion and care for this unique place of earth shine through everything Ödevata has to offer: Your breakfast-eggs come fresh from the chicken-run, as the honey comes from our own hives. You can buy home our delicious farm-made apple juice. Also, we prepare thoroughly for our fisherman-guests with primed equipment, boats and a small shop for accessories, - all year round.

Visitors from all over Europe have made their way to our paradise between the lakes, and we often welcome larger groups who spend their holiday here. In the Kalmar-region, Ödevata is well-known as a conference-facility with comfortable lodging and activities "close to nature". For families, Ödevata is the perfect weekend-break for recreation "in the wilds".

We want to make it easy for you to visit us, to make a request and book your stay. Therefore, we welcome you to get in touch and express your wishes. We'll make sure your trip, holiday or meeting will be as relaxing or exciting as you want it to be.
Gårdshotellet blir ytterligare en gren på Ödevataträdet.
De övriga är FiskeCamp, camping, konferensverksamhet och stuguthyrning...
I elva år har paret Malin och Magnus Axelsson varit ägare till den flrna kriminalvårdsanstalten i Ödevata. Mängder av arbete har lagts ner genom åren, och nu är tiden mogen för att bygga om till gårdshotell.

Barometern, 8 februari 2017.