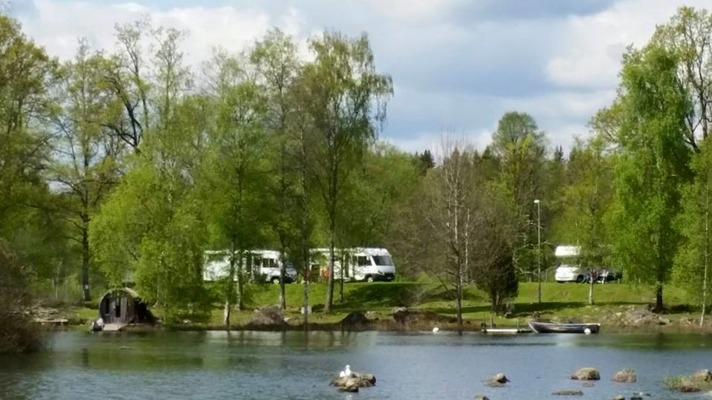 Charming camping site for
max. 15 caravans
Camping open all year round
200:-/night/cartrailer resp. caravan
50:-/night for electricity
Access to showers and toilet
free of charge
Check-in after 12pm,
check-out untill 12pm
Regrettably, the camping has no drain for sewage disposal
Caravans welcome: Take your home to Ödevata!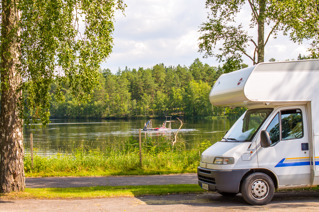 Get close to nature with a tent, a trailer or caravan and enjoy the beautiful surroundings where the woods meet the water.
Ödevata FiskeCamp bids all campers a warm welcome!

Since we only offer a few exquisite spots close to the lake, it's advised to make a reservation via phone, e-mail or online. You might want to "stop over" on your way till Kalmar and Öland. Or maybe you are in the middle of your round trip through Sweden?
We see to your needs and arrange a fine camping spot.

If you come to camp at our place you may choose between two sites, both with a wide view over lake Ödevaten:
The large grassy area lies a bit "off" and higher up on the shore. There, you have access to electricity and water, as well as
to a nice barbecue-area. You walk 10 metres towards the lake and 50 metres to the bathing area. There is room for
max. 10 caravans.

The other overnight-parking is made of asphalt and has access to electricity-posts. The parking is located directly on the shores of the lake, and it's a bit closer to the house with showers and toilets. Max. 5 caravans can park here.
Ödevata has no sewage disposal. What we can offer, though, is access to clean and well-equipped showers/WC and a dishing-area inside the house.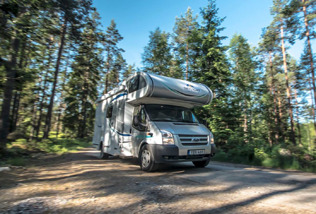 GoNatureTrip: the road you take make all the difference
We are part of a network of companies working together to give you the best "GoNatureTrip-experience" of Sweden: Family-friendly activities on your round trip through Sweden and unique eye-openers in the Swedish country-side. Find your favorite beyond the popular sights: Life on a farm, fishing with guide, boat trips, sauna-nights at the lake and more exciting family-adventures!

Inspiration for a different roundtrip with your motorhome go to GoNatureTrips homepage.

Ödevata FiskeCamp is also part of Premium GoNatureTrip, an choice of exclusive tours and destinations on your motorhome-journey. In cooperation with Daylight husbilcenter in Jönköping we work to offer you an unforgettable round trip through Sweden!