Ödevata Country Hotel: Rural charm with a personal twist
Welcome to the heart of Ödevata. The main building is beautifully located and offers a wide view
over the lakescape on several sides. Here, you find the perfect place for relaxing days and restful nights.
You can even rent the whole house for group or conference-occasions and host up to 25 people at once.

Our main building consists of 12 newly renovated hotell rooms, all but one, rooms with private bathrooms - located on two floors. Both levels have a self-catering kitchen each and a grouproom with TV. You can choose between single room, double room (max. 2 adults) and family rooms for 2 adults and up to 3 children.

Your room in the country-lodge
We prepare the room with shiny sheets and towels before your arrival. Your breakfast is included in the price and so is cleanup. If you choose a longer stay, we will clean your room regularly.

Our prices:
Single room from 690 SEK/night.
Twin room from 990 SEK/per night.
Family from 1490 SEK/2 adults and 2 children per night.
Extra beds and cots can be booked.

You may choose to abstain from breakfast (in case of self-catering). In this case we reduce the room prices by 75 SEK/adult resp. 50 SEK/children up to 12 years.

Additional beds and special toddler beds can be booked extra.
Book your stay online, call us at +46 (0)471-504 30 or send us en e-mail at info@odevata.se.

Travellers with dog/ pets
You are welcome to bring your pet/dog to the country hotel at Ödevata.
Before you do, please contact us personally via mail eller phone.
We charge an extra 100 SEK for each pet per night.
Quick facts Country-hotel
12 rooms with innerspring beds
Self-catering kitchen, grouproom and TV on both floors
Rent the whole house for your
group or conference
Single room: from 690 SEK/night
Twin room: from 990 SEK/per night
Family room: 1490 SEK/2 adults and 2 children per night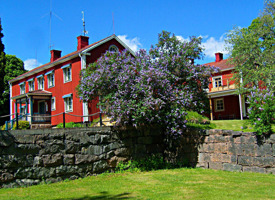 AMAZING! What else can I say? The staff was so friendly, the rooms were so cozy and the area where breakfast is served in the morning is so nice. I will always remember the lovely memories we made here, warming up in the sauna after a dip in the lake! Beautiful grounds for walking, swimming, biking.
I hope we will return!!!
Ashley Jorgensen, review on Facebook