The best of Ödevata offers
Enjoy the best of what Ödevata offers: Recreation close to nature, comfortable living and lots of leisure activities - all around the year! Our package deals include overnight stay and adventures in the wilds, - well adjusted to the season. Together with our personal service and this certain feeling of hide-away, Ödevata aims to be your inspiration for relaxation!
Pike-fishing with B&B deals
Go big in Ödevata! This fishing adventure package deal on lake Ödevaten leads you to the secretive pikes...!
One overnight stay with breakfast for 2 persons in one of our double rooms, Ödevata country hotel

A whole day of pike fishing from a boat with electric engine (rent more angling equipment on request)

Access to our well-equipped self-catering kitchen
Offer valid along with room booking from Sept. to May.
Standard price: 760:-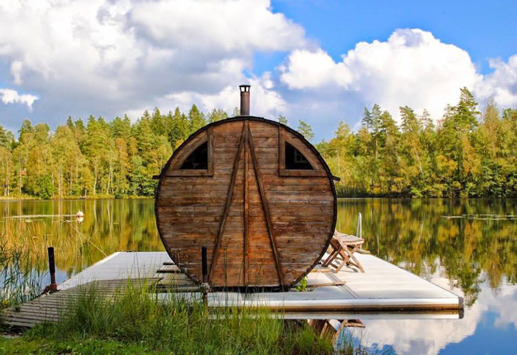 Treat yourself to a day of rest and relaxation with this great deal. In the raft-sauna on the lake, you get as far away from stress as you can!
One overnight stay with breakfast for 2 persons in one of our double rooms, Ödevata country hotel

Access to our well-equipped self-catering kitchen

Rent of our delightful wooden raft-sauna

We're heating up the sauna before your arrival
Offer valid along with room-booking from Sept. to May.
Standard price: 795:-/pers
Long-weekend fishing package
Feel like a real member of our Fishing Camp and experience
3 days of angling, along with friends and family.
Three overnight stays with breakfast for 3 persons in a double room, Ödevata country hotel

Two days of pike- and perch fishing from a boat with electric motor on lake Ödevaten

One day of salmonid fishing
Offer valid along with room-booking from Sept. to May.
Additional charge on single room booking.
Ordn. price 2250 SEK/pers.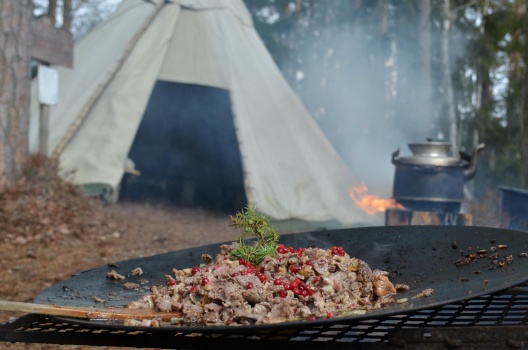 Don't like the crowd? Looking for destinations for your autumn/winter holiday? Ödevata offers special prices and packages during low season!
Rent the entire hotel for 10-15 people

or 16-25 people

Included: Breakfast, sauna, cozy around a campfire in the teepee tent, and loan of outdoor cooking equipment

Included activities: Hiking, swimming, and berries and mushroom picking. There's also a large open field for ball games (You can borrow the games for free).

Extra: There are possibilities for renting canoes and kayaks.
Prices are valid for Low Season; September 15 - May 15. During Christmas and Easter, the price will be slightly higher. Contact us for more information.
Price: (10-15 people) 11,000:-/night
Price: (16-25 people) 13,000:-/night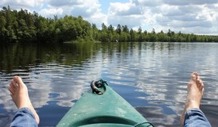 Sustainable gifts
Give an unique nature experience as a gift! At Ödevata, you can buy giftcards of a nature adventure. Contact us via phone +46 (0) 471 504 30 or e-mail: info@odevata.se.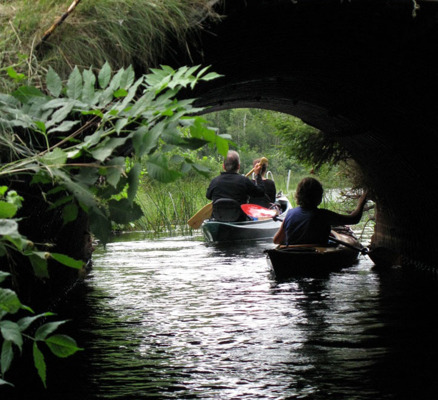 Canoe & Outdoor-Cooking package
Ödevata is surrounded by enchanted lakes and lochs. Silent waters invite you to explore by canoe or kayak. This package offers you a half day of paddling on the long lake Ödevaten plus an exquisite woodcraft food menu that we prepare and eat outdoors. An activity for 2-8 persons, approx. 4 hours long.
Canoe-/ Kayak incl. life jackets and maps. The recommended route on Ödevaten is about 10 km long

A three-course-dinner in the wilds. You prepare your meal yourself with guidance by Malin, your host

Try geocaching along our fine hiking trails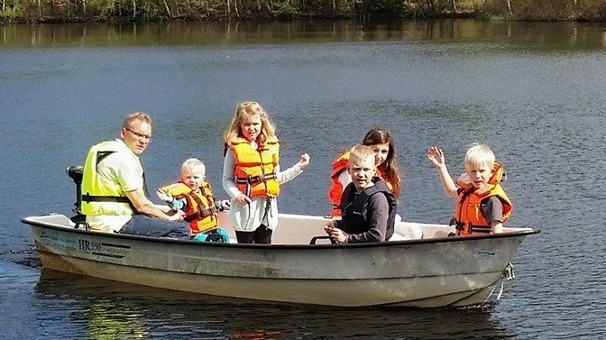 Autumn-package for families
An autumn holiday packed with family friendly adventures in Ödevata: Collect mushrooms, try fishing, bathe in a hot tub and enjoy the sauna.
One overnight stay with breakfast in one of our family rooms. Our Ödevata country hotel

One day of fishing in lake Ödevaten, electric motor driven boat and fishing license are included

Use of our delightful wooden raft-sauna -
the perfect finish of an active Outdoor day!
Offer valid when booking between 15 September and 20 December, valid for 2 adults and 2 children.
Fishing equipment is available for rent.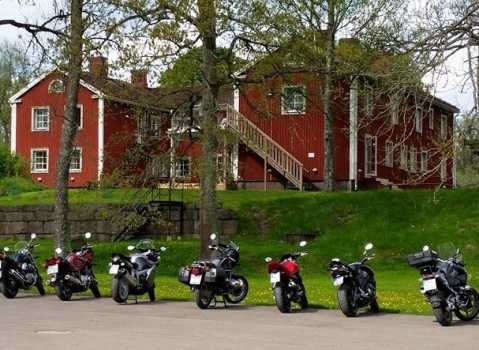 Rent the whole of Ödevata!
Ödevata is a fine place to enjoy yourselves and thus, ideal for youth groups, clubs and sports teams etc. Enjoy an undisturbed journey with your group/team and rent the main hotel building of Ödevata for a period.
Max 25 persons can stay in our 12 hotel rooms. You have Ödevata country hotel - all to yourselves!

Make use of a large furnished outdoor garden area, a mobile BBQ-grill, and a large balcony

Two self-catering kitchens and a common area that also serves as dining-hall and TV room

Combine wih activities like boat trips, paddling, hiking etc.

Please contact us for information, offers and pacakge deals

.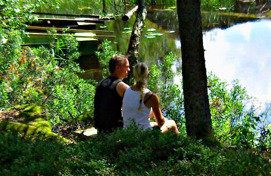 Delightful hours in a natural environment
Let us guide you to nature's secret areas: we offer a "romantic package" for all those who seek a little seclusion. We cooperate with Spetsmåla gård, a nature craft company with focus on sustainable outdoor activities. Carina Evaldsdotter leads you on wild hiking trails and shares her knowledge about nature's rich ressources. She even offers workshops on healthy living, beauty, horticulture and ecologic agriculture.